Samantha Clark's wedding is by no means ordinary. The bride from Pleasantville, Iowa wanted her's not to be like everyone else's by including her dogs in the ceremony.
However, she realized that her three dogs already have love and a home. So she added some twist to her already unusual wedding by deciding that her bridesmaids will not be holding bouquets as they walk down the aisle. Instead, they will all be carrying local rescue puppies.
She immediately reached out to her local animal shelter, asked if they have some puppies on site, and explained what she wanted to happen at her wedding.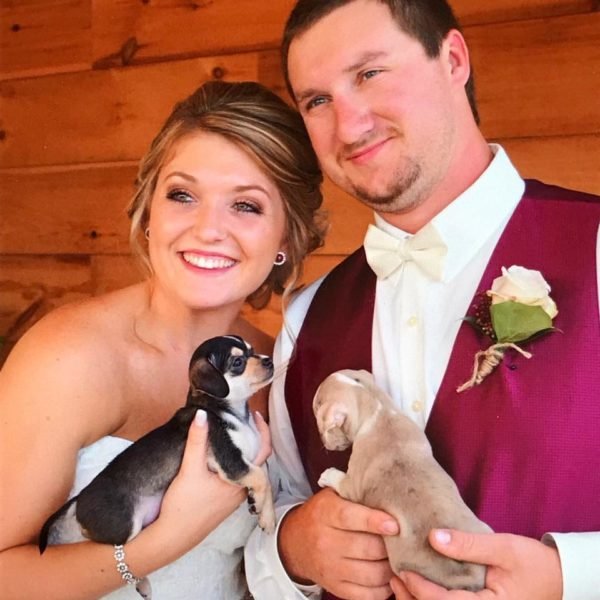 Photo credits: Facebook/Samantha Clark
Obliging with pleasure to fulfill a would-be bride's request, AHeinz57 Pet Rescue and Transport, an animal shelter, provided Samantha's entourage with six dogs, a mixture of chihuahua and dachshund known as Chiweenies.
A wedding with puppies
Over the years, the organization has collected some animals in need of homes and they have rescued a dozen stray dogs in the aftermath of Hurricane Harvey.
The shelter owner, Amy Heinz loved the idea and said that Samantha's plan is such a sweet way to bring awareness to rescue dogs.
At first, Samantha's family and friends thought that she is crazy to go through with her plan and was not even sure if her bridesmaids will agree to go along with it.  Thankfully, the girls agreed and quickly got on board.
Photo credit: Facebook/ AHeinz Pet Rescue and Transport
AHeinz Pet Rescue and Transport posted the adorable pictures of the bride, her bridesmaids, and the two-month-old furbabies, on Facebook. It easily went viral accruing 3,900 reactions, 458 comments, and have been shared 490 times.
Some of the netizens tagged their friends who were also planning their own weddings and suggested they do what Samantha did. Some commended Samantha and the bridesmaids for giving the puppies a chance to find families who will take care of them. Others have already reached out to the shelter to find out more details about the adoption process.