The father-daughter dance is probably one of the most touching portions of a wedding reception program. It is a special moment between the bride and her dad to spend some personal time together before she starts her married life.
But for Mary Bourne Roberts-Butts of Alabama, theirs was not the typical father-daughter dance. It was made special by the fact that her father, Jim Roberts, almost did not make it to her wedding. Jim was diagnosed with an incurable disease called glioblastoma and has begun hospice care right before his daughter's wedding.
They were unsure if Jim can still make it to Mary's wedding but they are sure glad that he did. In front of the 175 wedding guests, Jim, in a wheelchair, walked Mary down the aisle of St Francis at the Point in Point Clear.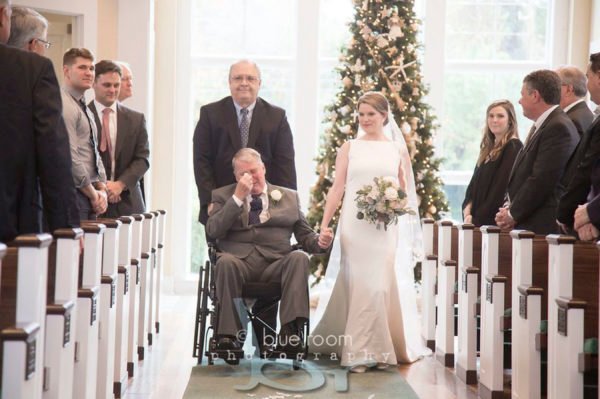 Photo credits: Blue Room Photography
And when the time came for their father-daughter dance, Mary, a professional dance teacher, led her father around the dancefloor. Seated at his wheelchair, Jim and Mary danced to Lee Ann Womack's 'I Hope You Dance'.
The Dance
The said song has a special spot in their hearts. When Mary was still a child, the father-daughter tandem has been dancing around the kitchen to the tune of this song. They both agreed that when Mary gets married, this will be the song they will choose for their father-daughter dance.
When the father and the daughter took over the dance floor, they twirled around while mouthing the words to the song. While the guests enjoy the dance performance, tears also sprang from their eyes. Mary, too, was wiping away tears from her face, as they go on with their dance.
The father-daughter of Jim and Mary was recorded on video and has been shared across social media platforms. Netizens who were able to see the video were also in tears after seeing the video and knowing the story behind it. The video has been viewed more than 250,000 times and has accrued more than 300 comments from the netizens.
On January 10, 2019, Jim has joined the Creator in heaven.
Here's a video of their father-daughter dance: