No matter how careful you make the plans and how detailed you were with everything right from the very start, it's usually impossible to achieve the 100% perfect wedding where everything goes exactly according to plan!
But one couple recently expressed disappointment after a woman photobombed their beach wedding photos – and she even appeared so angry over what she was watching.
Netizen Celego posted some photos of the wedding on Reddit.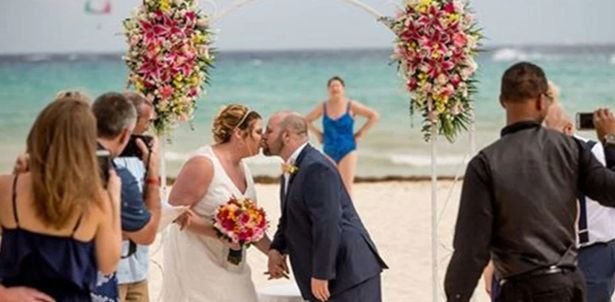 Photo credit: Celego – Reddit / Mirror UK
In the photos taken right on the beach, the couple shared a sweet moment as they kissed to seal their vows and later posed for pictures as newlyweds. But while these moments were so beautiful, an angry swimmer in a blue swimsuit could be seen with her arms akimbo, staring angrily at the couple from behind.
While she might be curious about the couple or perhaps angry that they are on her favorite swimming spot, the couple as well as netizens believe she did not have the right to ruin the wedding photos by standing right on the spot beyond the altar.
For sure, she knows that she would be included in the photos, considering she was standing behind the altar arch. But this woman did not care – as she had even ignored the tape that shut off this section of the beach so that people wouldn't disturb the wedding.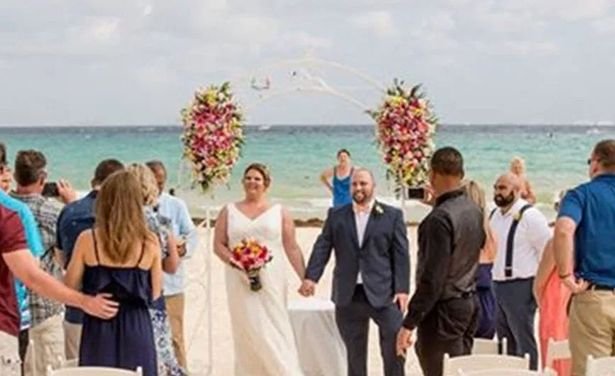 Photo credit: Celego – Reddit / Mirror UK
Some netizens joked that the couple should be happy because this woman volunteered to be their "something blue" for the wedding. Others added that the woman could be the groom's ex-girlfriend, especially because she seems really angry as she watched the couple kissing and having their wedding photos taken!
But other netizens told the couple this is one of the downside to having a wedding at a public location. Netizens advised the couple to simply tell the photographers to edit her out of the pictures! Sigh.
What's "Something Blue" for Weddings?
"Something Olde, Something New, Something Borrowed, Something Blue, A Sixpence in your Shoe," an Old English rhyme states about the things that the bride should carry on her wedding day for good luck.