No matter if they are extravagant or simple, a wedding is an event that a couple lovingly shares with people close to their hearts. Most engaged couples spend more than a year saving money for the wedding because it is such a milestone in their lives. Since a wedding is a once-in-a-lifetime event, they want to make sure that they will have the wedding celebration they have been dreaming of for years. A couple will make sure that they can afford to have a decent wedding in a lovely venue and with a sumptuous meal that the guests can enjoy.
Though some couples may not have a considerable amount to spare, their wedding is still worth celebrating together with their families and friends. These couples find a way to have a meaningful yet straightforward affair which memories will last a lifetime.
While another couple ensures that their wedding guests are comfortable and will have a good time during the wedding, one bride opted to cut-down on wedding cost by not providing food for the guests during the affair.
Upon knowing about this bride's plan, one of her bridesmaids anonymously shared it on Facebook.
She said that since the affair will last all day and evening, she worries that the wedding guests will become hungry. She is also concerned that the guests will get drunk if they will be drinking all day with nothing to eat.
A wedding with no food?
According to the bridesmaid's post, a girl she knew for about ten years now is supposed to get married in May. Right now, the couple focuses on preparing for a beautiful, relaxed outdoor, barn-style wedding with a bonfire and lots of handmade items.
She said that she loved the simplicity and the wedding setup entirely represent the couple.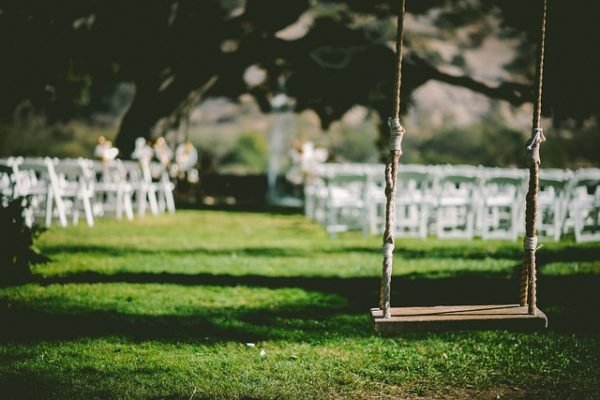 They will also be serving alcoholic beverages during the wedding. However, she found out that to cut cost, the couple will not provide food for the guests.
"Like, what? It's a whole day thing, even into the night, and no food?" the bridesmaid exclaimed.
She thought of ordering a pizza or something for herself, for her partner, and her friends, as it will a whole day affair.
"Everyone else I can see getting hammered with no food, and it's going to be messy," she added.
As she has only been to a few weddings, she wonders if she should say something, as a bridesmaid.
She also asked the Facebook community it if was such, indeed, a big deal.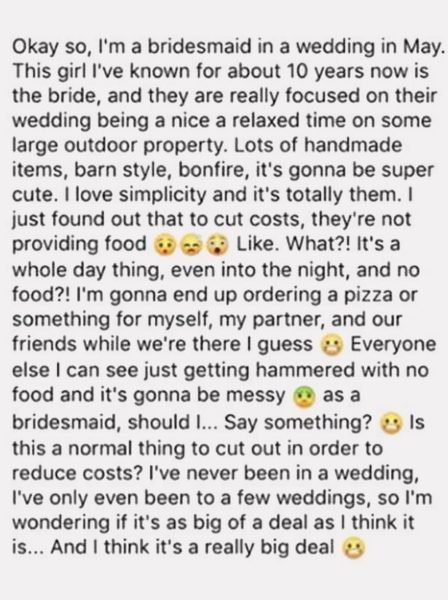 Photo credits: Mirror
Netizens can't help but comment
As expected the bridesmaid's post received comments from Facebook users.
One of them said that if a host cannot afford to feed all their guests, either they need to invite fewer people or have a smaller, shorter wedding. The Facebook user added that food is not optional if they are going to have people all day.
Another one commented that the wedding would last all day, so it is just rude not to provide food.
Some netizens offered potential solutions. According to them, it could be their wedding gift to the couple if the bridesmaids can get a cheap caterer that can serve meals for $10 per head. Each bridesmaid can pay a couple hundred for it. Otherwise, the Facebook user warned, people, will talk about the wedding as the worst one they ever attended.
However, some did not agree on such a suggestion. For some commenters, the responsibility should fall on the bride. For them, food should be in the top five priorities when having a big event.
No word yet if the pocket-friendly but hunger-inducing wedding will push through. But, what do you think about the bride's radical idea to cut wedding cost?