It is truly an honor to be invited to somebody's wedding. As an invited guest, it only means that you are among the group of people which the couple holds dear to their hearts. You are special to the bride and the groom and they want you to witness their first step into the married life.
In turn, you as an invited guest will prepare for the wedding and will spend time looking for that special gift which you think will mean a lot to the couple.
But, what if, along with the wedding invitation comes an entire set of rules which the bride expects you, as a guest, to observe during the affair?
A would-be wedding guest from Melbourne, Australia shared in social media a photo of the bride's rules to be observed during the wedding.
Photo credit: Mirror
The bride, who was the uploader's cousin, was able to fill-up an A4-sized bond paper with her rules for the guests. The notable ones of her list include asking the guests to pay for their own food, drinks, and cake.
Furthermore, she prohibited guests from wearing clothes in bright colors during the ceremony.
She also included a link and a detailed guide on how people can contribute money to their GoFund Me which she and her would-be husband has set up to raise fund for their honeymoon.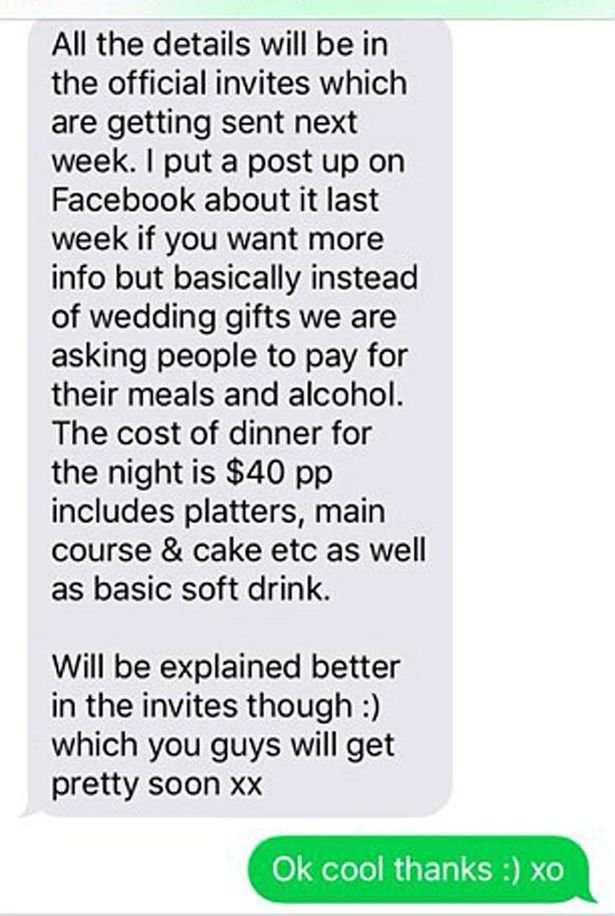 Photo credit: Mirror
Exclusive only for those invited
The uploader of the photo also said that there is a note in the invitation which says that if a person's name is not on it, that person must assume that he or she is not invited. Since the invitation was addressed to her father only, they are wondering if his partner is not invited to the affair.
The bride also does not allow anybody to bring a camera and this rule is a 'non-negotiable' one.
Also, the rules also ask for specific dress code—no reds, oranges, and yellows, as these colors will look washed out and pastel with their photo editing style.