It is every man's dream to see the love of his life, walking down the aisle to meet him at the altar as they prepare to exchange their vows and become one for the rest of their lives. But these days, the romantic moment is often marred by guests who rush to the aisle to take that 'perfect' photo of the bride!
Australian photographer Thomas Stewart angrily shared the photo that truly earned his ire as he advised couples to tell their guests to leave their phones behind as they wish for an 'unplugged' wedding.
"Right, I've had enough. I want to talk to you all about guests using mobile phones / cameras at weddings. I want to plead with you, and I'm going to make this very simple: brides and grooms, please have a completely unplugged wedding ceremony," Stewart wrote in his blog.

"Look at this photo. This groom had to lean out past the aisle just to see his bride approaching. Why? Because guests with their phones were in the aisle and in his way."
The photo was truly sad as the groom had to lean sideways from his spot at the altar just to see his bride walk down the aisle!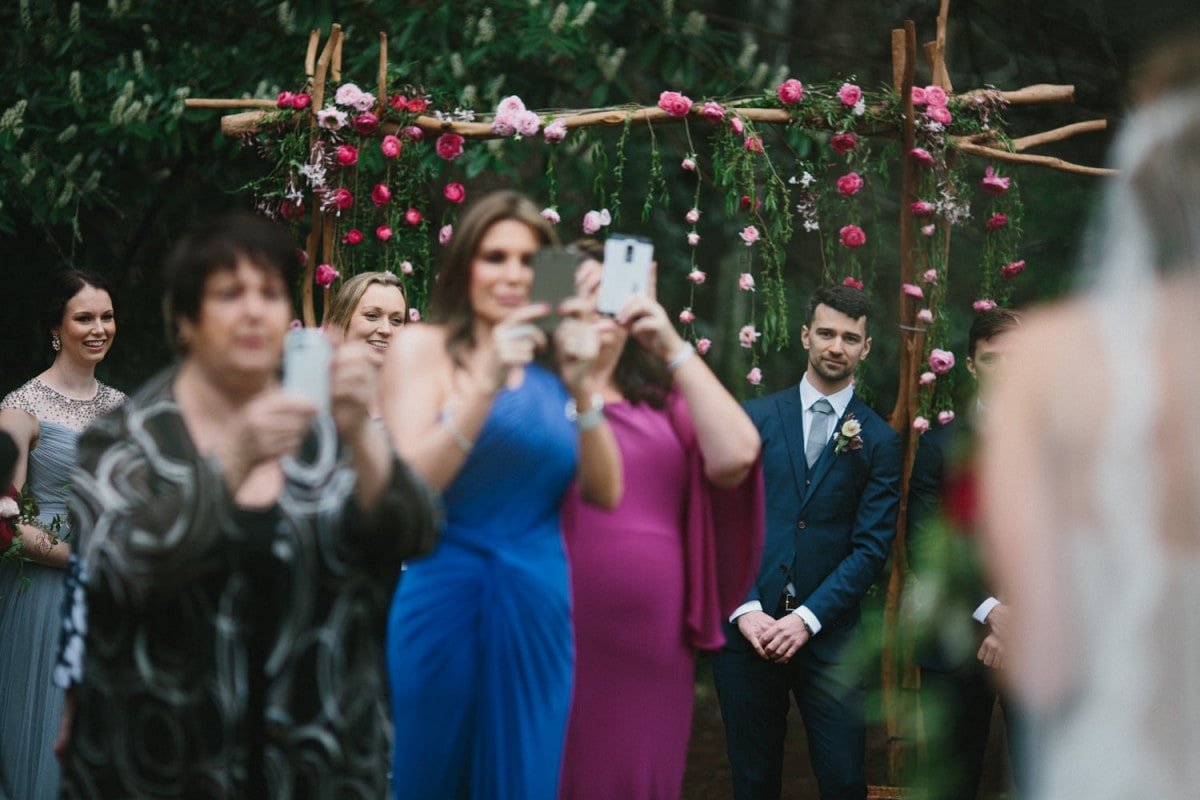 Photo credit: Thomas Stewart
According to Stewart, he takes full responsibility over what happened to this wedding as he was not able to tell the couple about making their guests keep their phones. However, he wants to make sure this won't happen again in the weddings he would cover in the future.
He has several advice for couples to take so they could have a great ceremony without guests getting in the way. He tells couples to specifically put in the invitations that they are not allowed to take photos of the ceremony; he also wants the rule written on a chalkboard or some other announcement board outside the venue.
Stewart's Advice to Couples
To avoid having guests ruin their wedding, Stewart offers the following advice to couples planning on getting married:
Guests with phones, ipads, and cameras get right in your photographer's way. They have no idea how to stay out of our way. They often ruin many of our shots. They will make our photos worse. You're paying a photographer quite a bit of money; that means you want great photos. We cannot do our best work with people getting in our way.
These same guests will get in YOUR way. You will miss moments of your own wedding day because there'll be an ipad in the way. You will miss seeing your partner's face in the aisle.
The guests' photos are usually crap. I'm sorry, but it's true. You can't take great photos with your camera phone by leaning into the aisle of a dark church to photograph a moving subject.
Imagine you're in the middle of your wedding ceremony. You're elated. You decide to take a quick glance towards your guests as you're sure they're sharing these happy moments with you, possibly even shedding a tear of their own. What do you see? NO FACES AT ALL AS THEY ARE ALL HIDDEN BEHIND PHONES AND CAMERAS! I highly doubt this is the way you want to remember your wedding ceremony.
And just in case potential wedding guests are reading, he added an advice telling them not to interfere with the photographer's job in taking photos. Moreover, he tells them never to be in the way of the couple during the wedding because they are invited to witness the marriage and watch the proceedings with their eyes, not their phones.
Do you agree?
Also read: Guest Ruins Official Wedding Photo with Her iPhone, Photographer's Rant Goes Viral