We hear so many stories about so-called 'influencers' who try to get someone to do a particular job or service for them, or perhaps ask for freebies from hotels and travel companies, in exchange for likes and 'shout outs' on their social media accounts.
Many of these actually backfire, with the artist or company even shaming these influencer wannabes on social media. But one guy seems to have hit the jackpot when Drake reportedly agreed to sing at his wedding for just 1 million likes and 100k follows! Whoa.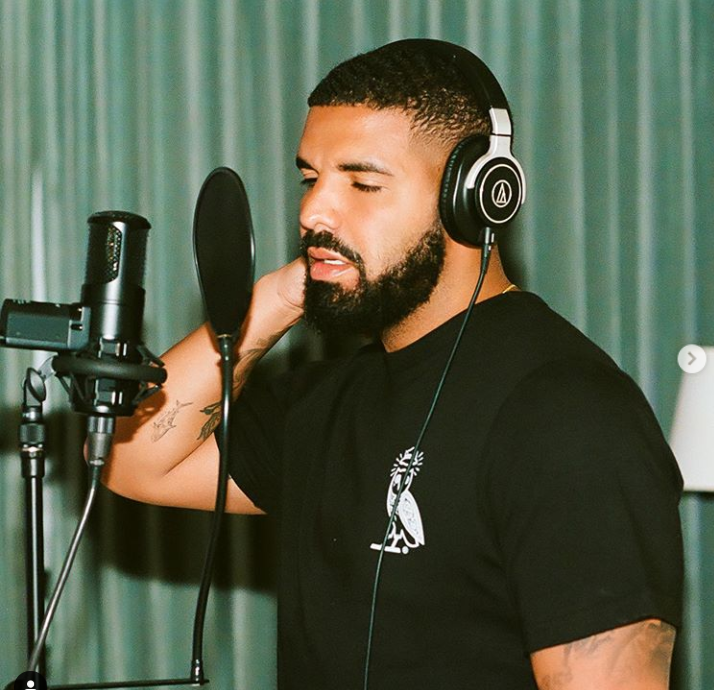 Photo credit: Champagne Papi /Instagram
According to recent estimates, Drake's talent fee for a private event could be upwards of $1 million but someone is claiming that the four-time Grammy Award winner agreed to sing at his wedding in exchange for likes.
The new Instagram account only had one post, but the user @drake_wedding posted what appears to be a screenshot of an exchange between him and Drake's official IG account, @champagnepapi.
"Hey Drake! My Fiancé and I are getting married on September 22 and she is your biggest fan and I wanted to surprise her. How many likes or follows for you to perform a couple songs at our wedding? It would mean the world us," the groom wrote Drake in a DM on Instagram.
Amazingly, the account replied to the DM, congratulating the groom and informing him of the likes and follows he needed.
"First off, congrats on getting married! And 1 million likes and 100,000 follows. Good luck," the account that looked like the real @champagnepapi replied.
While many are skeptical that Drake would actually do a gig for nothing but likes and follows, the account does look like the real thing. Aside from having the same name and profile photo as that being used by Drake, it also had a blue check badge that means it's a 'verified' account – that means the account has been verified to be that of the artist!
Yet others believe that @drake_wedding simply used Photoshop to create the DM exchange!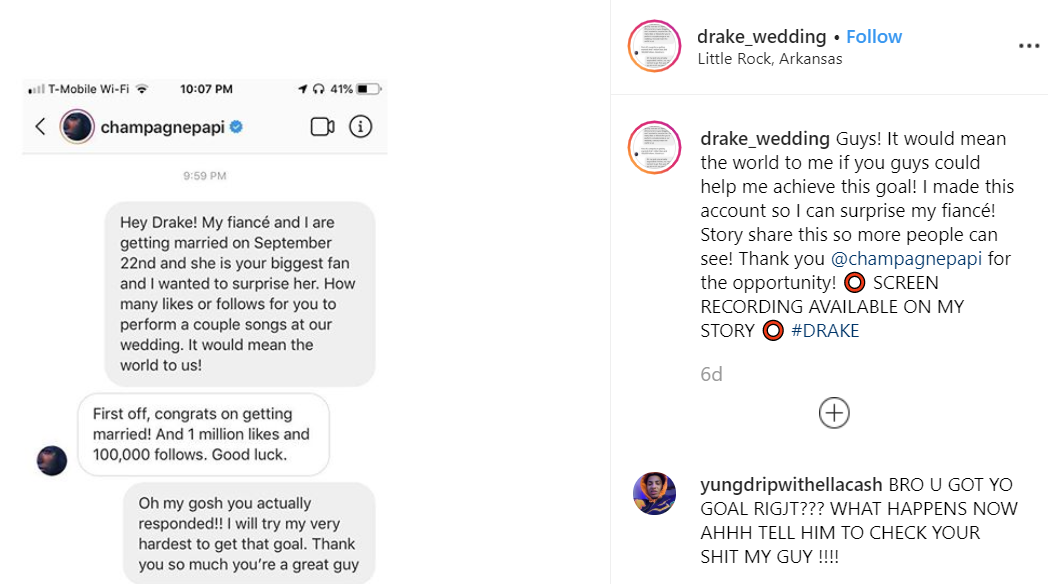 Photo credit: Instagram / Drake_Wedding
But new fans are hoping this was for real – especially now that the post has actually exceeded the required 1 million likes and the account now has over 220k follows! So, would Drake really perform at this guy's wedding? We might find out real soon…
Who is Drake?
Drake is a Canadian actor, rapper, singer, songwriter, record producer, and entrepreneur who was born as Aubrey Drake Graham on October 24, 1986. He became famous in 2001 after portraying the role of "Jimmy Brooks", a character on "Degrassi: The Next Generation".
His music career began with the launching of his first mix tape, "Room for Improvement", in 2006.
Drake is also known as "Champagne Papi". He won 4 Grammy Awards out of a total of 42 nominations. He has moved over 142 million units and is known as the highest-certified digital singles artist ever in the United States.