Science teacher Michael Weis and Kindergarten teacher Lynn Butler were both teaching at Oglethorpe County High School in Georgia, but they did not know each other until they met by chance at the opening breakfast for school staff. A mutual friend, Daryl Brese, introduced them to each other.
They met again by chance during a pre-planning activity for teachers held at a restaurant. However, this time, Michael and Lynn secretly engaged in a texting courtship.
Later that night, they decided to meet for dinner, and the two immediately hit it off.
It did not take long before popped the question. After several trips to the mountains, waterfalls, pumpkin farms, family visits, holiday celebrations, and weekly visits and hangouts to their favorite spots in Athens, Michael to put the ring on Lynn' finger while pumping gas.
Photo credits: The Facebook Page of Oglethorpe County Schools
That moment was captured by Michael's children who were seated at the backseat, at that time.
Michael and Lynn both wanted an intimate and local wedding, and after months of brainstorming, they decided that they will get married on a bus.
Though it may have started as a joke, Lynn found herself asking the County Schools Superintendent if they can borrow a school bus so they could get married. To their surprise, Beverley Levine, the Superintendent responded positively, further adding that she can also get someone to officiate the wedding.
Hitched
The entire Oglethorpe County School helped prepared the wedding. The high school and primary teachers assisted with the desserts and drinks while the children also pitched in to help.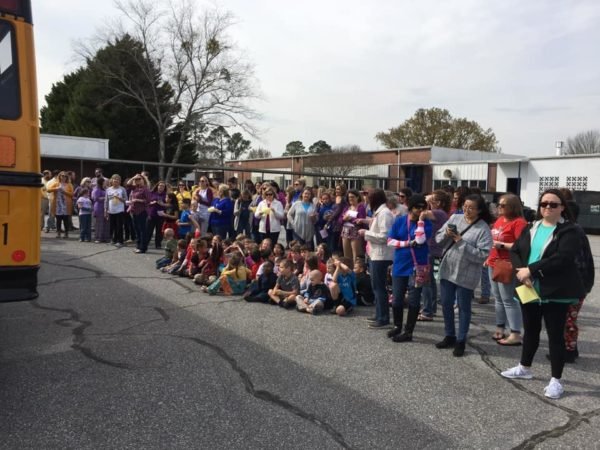 Photo credits: The Facebook Page of Oglethorpe County Schools
So, after school has finished on March 13, 2019, Lynn and Michael's fellow teachers, school administrators, students, family, and friends were all seated inside the school bus. Lynn walked down the aisle to meet Michael at the front of the bus to exchange 'I do's.'
Photo credits: The Facebook Page of Oglethorpe County Schools
Lynn said that theirs is a wedding two teachers could ever hope for.