The bride is the star of the wedding – and guests should know that they should not upstage the star by wearing something that would draw attention to them more than on the bride, such as a wedding gown!
But one mother-in-law, apparently, didn't receive the memo as she showed up at the ceremony wearing a wedding gown, with an updo that made her truly look like the bride! And she was rather so young-looking that subsequent photos of the event might confuse people who had no idea who the real bride might be!
American host and comedian Jimmy Fallon asked his fans to share their #WeddingFail stories. While many of the stories were quite hilarious, many stood out for just being plain crazy. Just like the story shared by Amy Pennza.
"My mother-in-law wore a wedding dress to my wedding. So, yeah, top that one, Twitter," Amy wrote.
And to prove that she was not just making this up, Amy even posted a photo of the rather awkward moment. Based on the photo, it really was something terrible because it was hard to tell which of the two was the bride.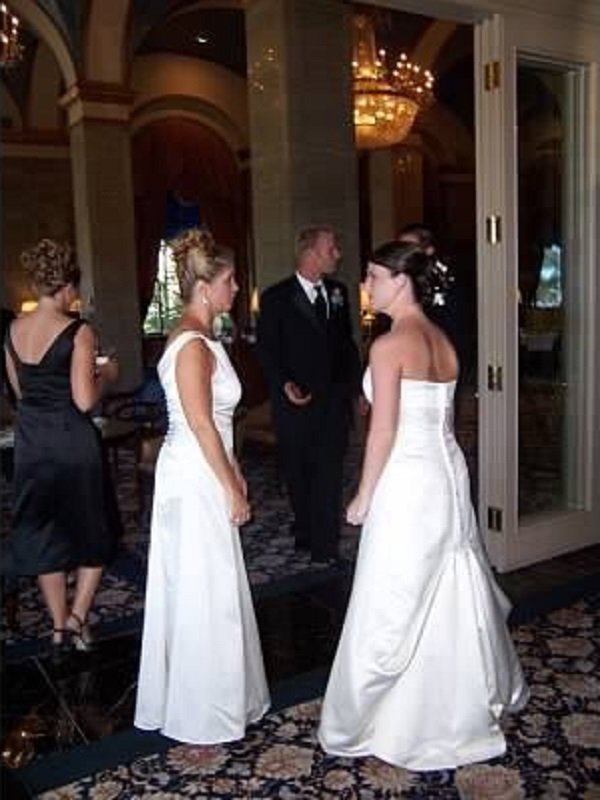 Photo credit: Amy Pennza / Twitter
Not surprisingly, the post went viral. Many people were curious whether she's still in speaking terms with her mother-in-law and whether she (or her bridesmaids) did something to ruin the other woman's gown. Ouch.
"I don't remember much about the day. Most people say their wedding is a blur, and that's true for me, too. But I know I said this: 'You… You could be the bride…'" Amy shared.
Thankfully, while this was a rather huge wedding fail, Amy and her mother-in-law are actually in good terms. She explained that though the wedding gown gaffe had affected her a bit, this did not ruin their relationship.
According to Amy, her mother-in-law had grown up so poor that she had become extremely frugal, even now that she already has money. So, when she found the white gown on a bargain and it fit, she simply bought it without thinking that it might actually be something not that appropriate to wear to her son's wedding.
While she looks like she was competing with the bride for the spotlight, Amy said there were no hard feelings. She added that her mother-in-law had been an angel to the family, something they could count on anytime.
"When my twins were newborns, she drove across town every night, slept on the sofa, and did three feedings. For two babies. Every night for months. She'd walk over hot coals for her grandchildren. She gives them everything. Because, you know, she grew up with nothing," Amy shared.
She also added that she asked her mother-in-law about the photo and the attention it was getting on the internet as she was worried that it might hurt her feelings. But the older woman laughed it off, saying she's amused this was getting her famous. Whew!
What Not to Wear to a Wedding
It is important to never upstage the bride; thus, don't wear outrageous outfits that draw attention to yourself. It is also a good idea to avoid wearing too casual clothes like t-shirts, denim jeans, and slippers. Also avoid wearing anything too revealing, sheer clothes, and an all-white or all-black outfit. Men should also avoid wearing tuxedos.