With most brides wanting to look their best on their wedding day, many of them actually try to lose weight. But one bride seems to have topped all of these ladies when she lost a whopping 63kg for the wedding!
At 44 years old, Claire Williams from Wales in the United Kingdom had long accepted that fact that she's overweight; obese, in fact. Weighing 125kg, she enjoyed eating delicious, high-calorie food.
Photo credit: News AU
"Any food I could find I'd put in my mouth. I would eat a stupid amount of bread — almost a loaf a day. I'd have it with every single meal of the day. Breakfast lunch and dinner, too," Claire admitted.
When she met Matthew in 2013, it was the first time that someone loved her for who she is. It didn't matter to Matthew that Claire is overweight; he loved her unconditionally.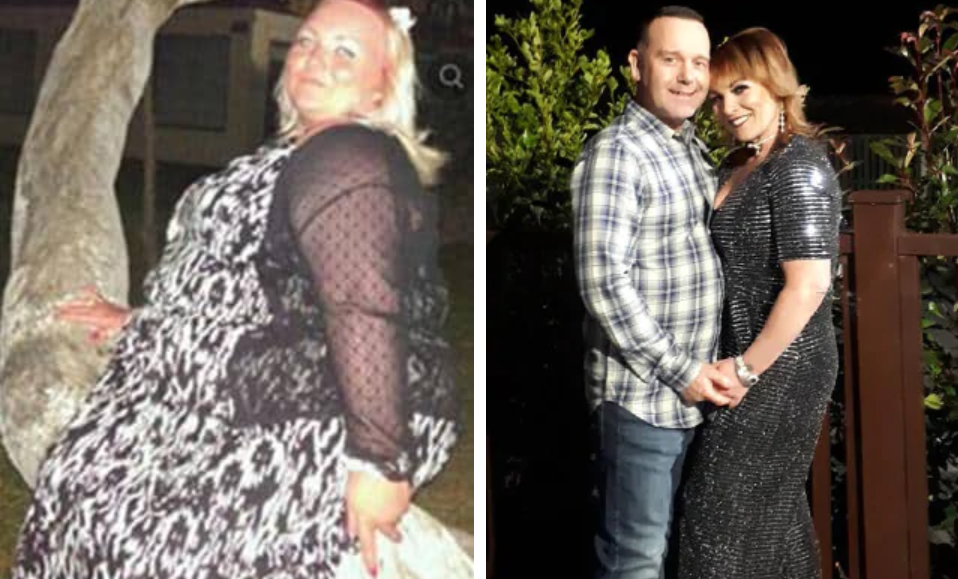 Photo credit: News AU
"Matthew loved me unconditionally. He met me when I was fat and he got a lot of stick. People asked him why he was going out with a fat woman like me," Claire explained.

"Having such a wonderful partner who loves you unconditionally is amazing. If it wasn't for him, I'd not be the healthy and happy woman I am today."
While Claire had long resigned herself to being overweight, she was hurt when someone taunted her fiancé Matthew that he's "dating a fat girl". Of course, that person was just telling the truth, but do they really have to rub it in?
Photo credit: News AU
Still, Claire used those taunting words as a challenge to make herself better and prove that person wrong.
The formerly size 26 bride would amaze everyone with her incredible transformation for the wedding after losing 63kg and going down to size 8!
Friends and family were rather shocked to see her in a size 8 sweetheart wedding gown.
Photo credit: News AU
"I did feel truly amazing on my wedding day. Walking down the aisle felt wonderful. Matthew did nothing but tell me how beautiful I was and the whole day was fantastic," an ecstatic Claire declared.

"We'd come through my weight loss together. I'm half the woman I used to be these days, and it's the best feeling in the world."
Indeed, she's literally half the woman she had been in size – but twice happier!
What's a Sweetheart Wedding Gown?
A sweetheart wedding gown has a distinctive heart-shaped style on the neckline. This gown is perfect for those who want to show off their curves.