With weddings being so opulent and grand these days, it is nearly impossible to find couples who only spend a little money – everyone wants to have a grand event, right? Well, wrong. Not really! Because there's this wedding in Siargao that truly surprised everyone – and it's something that's so similar to the one of Megan Young that you might think they drew inspiration that simplistic, Bohemian-themed event.
Photographer Macky Carcedo covered this beautiful event, the wedding of Nathan and Airene who wowed everyone with their impressively simple yet incredible wedding!
The eco-friendly wedding of this Cebu-based couple happened in Siargao last January 31.
Set on the beach, the wedding features brown decorations made from dried leaves and flowers. Every material in this wedding was made of biodegradable stuff – including the bridesmaids' bouquets that are totally unexpected. Even the bride's bouquet was made from dried flowers.
With the reception done under the canopy of the coconut trees, many of the decorations were also made from parts of the coconut tree. It is almost unbelievable that anyone would actually want a wedding like this, but the couple managed to make the dull, dried leaves and flowers actually look elegant.
But you will also be surprised by their reception! Instead of an ostentatious 'handa' for the big event, the couple reportedly served their guests with pan de bisaya (native bread), biko, and juice. Instead of the usual lechon served in big events, their reception tables had grilled fish, vegetables, and even munggo.
Those foods are definitely not your typical handa, even in birthdays! But for the couple, this is the best wedding they could ever dream of.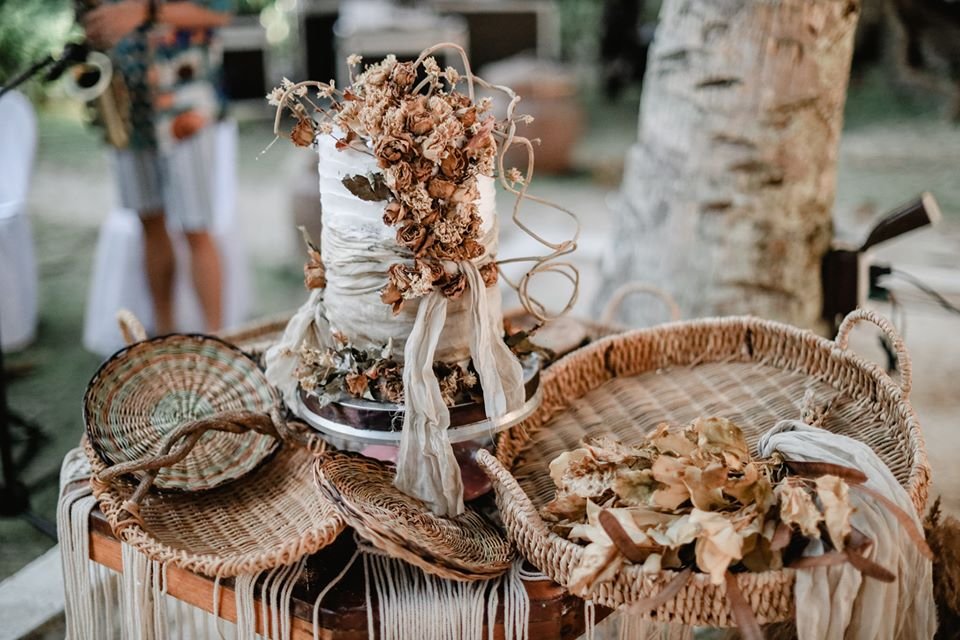 Photo credit: Macky Carcedo / Facebook
According to Bride and Breakfast, this completely DIY wedding had the bride and groom collect twigs, leaves, and sticks to decorate the entire place. The groom's family also made the chairs using bamboo and canvas.
This wedding had less colors, less expenses, less waste – yet it's so perfect! It's the minimalist wedding that a lot of people might wish to have but only Nathan and Airene actually managed to pull off so beautifully… Impressive, that's for sure!