Proposals are beautiful moments – and it's understandable that many people wish to keep a memento of this moment to keep forever. But a thoughtful mom made an accidentally 'inappropriate' engagement sculpture as gift to the couple.
The hilarious gaffe had the world laughing, with netizens suggesting funny ways to correct the gift.
The proposal at the park went rather well for a couple as the girlfriend said, "Yes!" Someone was even able to snap a photo of the sweet moment wherein the man was still down on his knees, with one hand offering her the ring while the other rested on his bended knee.
The woman in the photo covered her mouth in surprise as she saw her boyfriend offering her that ring. It was a moment that was simply too perfect to pass; thus, one of their moms thought it would make a great template for an engagement gift.
"My mother-in-law thought it was a good idea to get a sculpture of this beautiful moment," shared Instagram account Awkward Family Moments.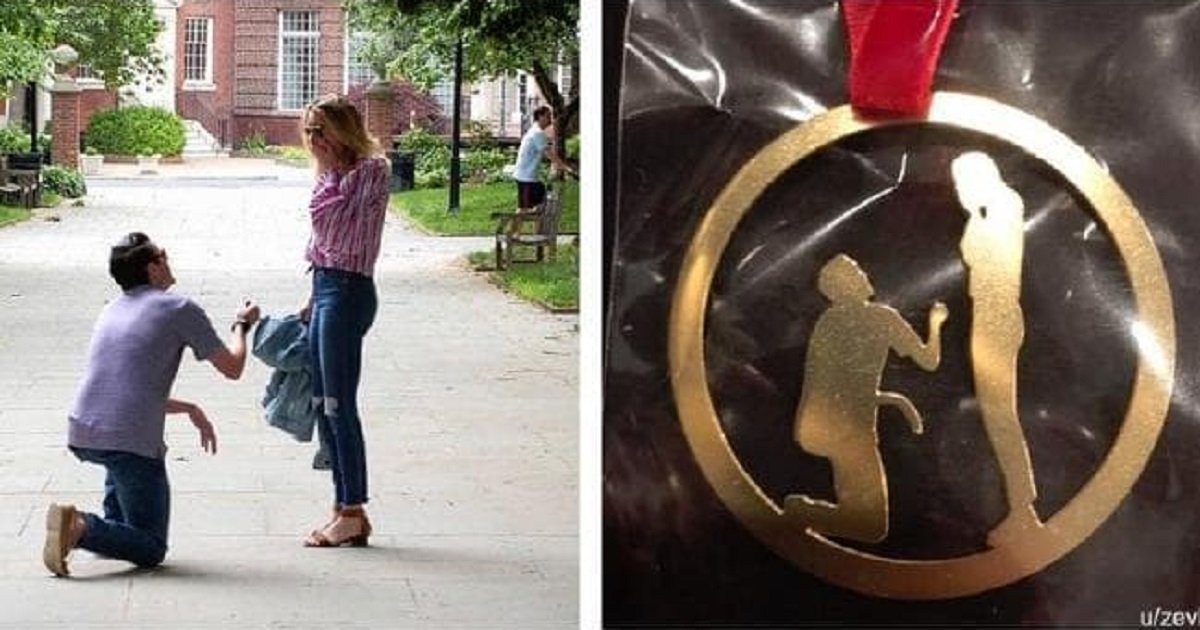 Photo credit: Instagram / Awkward Family Moments
But while the jewelry designer was able to capture the moment rather well in silhouette style art, the man's hand looks like a rather different body part altogether that the object would soon become popular on the internet.
"She's gasping at the sight of that … engagement ring," one netizen joked.

"At first I was like, 'why is this awkward? This is cute!' Then I was like, oh never mind," another one mused.
And while many thought it was thoughtful of this mom to order the sculpture, they believe it was still a disaster that needs to be corrected.
"Not sure it's a sculpture, 100% sure it's a disaster," someone critiqued.

"Cut off the hand and it's cute," another suggested.
The suggestion actually sounds like the perfect solution to this disaster of a gift, huh?
Best Engagement Gifts for Couples
It is tricky to find an engagement gift for couples but if you are invited to their engagement party, chances are you know them well enough to find the most appropriate gifts to give for the occasion.
Personalized gifts are perfect for the occasion. For example, if the couple loves adventures and trips, you can give them matching personalized bag tags or passport holders. Monogrammed towels, artwork of the proposal moment, or other personalized items would be great.